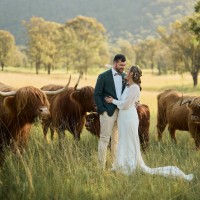 We hadn't viewed the property in person!
My Husband Richard was excited to show me this website of a place called Adams Peak Country Estate when we begun our hunt for a wedding venue. He was quite chuffed with finding this spot himself and once he showed me on the website, I was sold, excited and thrilled AND WE HADN'T VIEWED THE PROPERTY IN PERSON!

Due to COVID restrictions and us being in Sydney with quite firm lockdown requirements, we relied heavily on the website and this brilliant wedding planner checklist that Karen and the team provided. The photos honestly do not do this place justice, it is absolutely stunning and I know not only were Richard and I well beyond impressed but each and every single family member and friend commented on how amazing APCE is.

Anne-Marie welcomed us and showed us the amazing property and everything we needed to know on the day we checked in, everything was smooth as it was organised and the team are professional. Richard and I honestly couldn't have asked for a perfect venue to begin our long and happy marriage and we did this all off the website and just had the faith and trust from recommendations and the dealings of the APCE Team throughout.

Thank you APCE Team, you really made one of the best days of our lives possible, stress free and my cheeks were sore from smiling so much.

To anyone thinking about this place, I personally couldn't say enough to look no further than here and trust In the fact that this will achieve all your dreams for your special day.

Vanessa
- Vanessa and Richard
Wedding postponed 4 times due to COVID!
WOW! What a venue! My partner and I started looking for wedding venue's in 2019 and Adams Peak was one of the first we looked at. From that moment on, I couldn't get this place out of my head and any place we looked at after, just couldn't live up to Adams Peak.

Our wedding was postponed 4 times over 2 years due to Covid, and every time Karyn was amazing to deal with. She was always lovely, always responded quickly and nothing was ever too much for her. At one point I was wondering how long it would take me to walk down the aisle so I could get the timing of the music right, and Karyn went out there and counted the number of steps from the start to the end, and the time it took her!

Over the time we had booked Adams Peak, they brought on a new event coordinator, Anne-Marie. At first I was a little worried, I had spent 18 months dealing with Karyn and felt like she knew everything I wanted and how I wanted it, I was unsure that someone new would be able to take on that much history. But I had nothing to be worried about! Anne-Marie was beyond incredible and it truely felt like one of my best friends was coordinating the day for me. She was truely amazing and nothing was too much trouble. Even running back to the rooms last minute to grab the rings in the pouring rain!

I also need to mention Michael, because he was amazing too! He let my 2 year old son sit on his ride on mower and my son has not stopped talking about it since! Michael gave us hay to feed the gorgeous cows they have on site, and gave us a lift back to the wedding when my feet were sore from walking in heels! He was also a huge help in setting up the day before, nothing was too much trouble for him. Even drilling hooks into the wall so I could hang a frame exactly where I wanted it haha

The venue itself is amazing, the rooms were all immaculate and had everything we needed! The grounds were perfect, and even the toilets got a lot of mentions from my girlfriends - a little box on the sink full of anything and everything one might need at a wedding - deodorant, bobby pins, safety pints, hair spray, needle & thread and all kinds of things!

I absolutely love Adams Peak & cannot recommend it enough!!!

Thanks for everything guys, you truly made our day unforgettable, much love xx
- Jody and David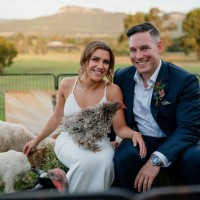 I really couldn't fault one part of it.
I can't believe it's already been a month since we got married at Adams Peak! We thought our wedding was perfect, it was everything we dreamed it would be and somehow better!

I wanted to say thank you so much for your support and help on our wedding weekend plus heaps of your effort that goes in before we've even arrived. Karyn you were easy going and always so composed and in control. We loved the online wedding planning tool that gave us all the information we needed. Working with you (and the online portal) gave us so much confidence and took a lot of stress out of the planning process. We loved the recommended vendor page which we utilized for many of our vendors. It was also super helpful and comforting that they knew the venue and the operations as well, another thing for us not to worry about.

A special mention to Kim who was very attentive and made sure everything went to plan on the day. I know we only see a fraction of what you guys are doing behind the scenes but it's not lost on us that things don't run that smoothly by chance. Also Kim took great care of our parents, my mum and dad said they felt like VIP guests all day as Kim introduced herself, knew their drink orders and made sure they were always taken care of. Thank you for doing that.

I really couldn't fault one part of it. You have put thought and care into every aspect and we will highly recommend the venue to friends and family.

Lisa and Trent x
- Lisa and Trent
Planning from the UK
Absolutely incredible venue. Sarah and I got married at Adams Peak last month and we couldn't have asked for a more special venue. Karyn and the team were so helpful in the build-up when we were planning the wedding from the UK, and on the day. The range of options for the ceremony and reception mean it is ideal whatever the weather. And it really is a beautiful part of the world with breathtaking views from the venue.
- Ray and Sarah
Sad to say goodbye...
Adams Peak! Where do we start! From the moment we saw the place on Instagram we fell in love. Then we saw it in person and we knew this is where we wanted, no... HAD to get married. BONUS the place has only gotten better since we viewed it a year ago as they have done so much work and I know they have so much more in the pipeline!

Adams Peak has a rustic Beauty that is so rare and it's views take your breath away! My friends and family took full advantage of the various photo opportunities around the venue and I got told constantly through out the night how beautiful the spot was.

We stayed for three nights and Karyn went above and beyond to make our stay comfortable. You can tell it's a family run business by how much love she pours into it and by how well she looks after you while you stay there.

She ALWAYS answered, emails, texts or phone calls quickly and had solutions for any problems that may of come up. Nothing was to much of an ask and she really made our day complete. It will be sad saying good bye to the venue as well as Karyn and her family as we fell in love with them both and we hope to pop back in if we are ever in the Hunter again! Thank you so much for giving us the wedding of our dreams!
- Bec and Matt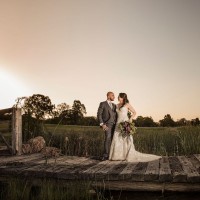 Our Dream Wedding
We fell in love with Adam's Peak from our first visit and we're so happy we had our wedding there. The whole property is so beautiful and continually being improved upon. There is a lot of flexibility in how you plan your wedding and where you have the ceremony and reception, and there is also a great list of recommended suppliers to work with. There was accommodation on the property that allowed us to have our entire bridal party and immediate family stay the whole weekend with us and the guesthouse was so comfortable and well equipped. We also loved how private the venue is and there is exclusive hire of the property for the duration of the booking. Karyn and Michael were both so friendly and helpful to deal with both during the planning process and on the weekend of the wedding. Everything was set up exactly according to our run sheet when we arrived and all we had to do was decorate. We had the best day and all of our guests were impressed by the stunning venue. Thanks Karyn and Michael for all of your help, we feel like we had our dream wedding!
- Laura and Benjamin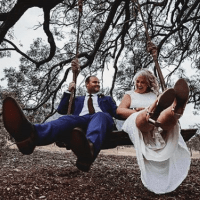 Michael... you were a legend!
We wanted to say the biggest thank you from the bottom of our hearts!

We had the best wedding weekend that we ever could have hoped or dreamed of. Your property is magnificent and it meant that we not only got to have a beautiful, picturesque ceremony, reception, photos and pre & post drinking venue... but also meant that we got to have all of our family and closest friends stay with us for the whole weekend.
It has given us memories that will last a lifetime. We can not wipe the smiles off our faces.

Michael... you were a legend! Thank you for looking after us for the entire weekend. You were always there with anything we needed, and even there doing things we didn't know we needed. THANK YOU!

Karyn... Adams Peak is just magical, you made everything SO easy in the lead up and everyone has not stopped raving about the place. I feel like there may be some Edwards/Moloney weddings at AP in the future.

Thank you again, we can't possibly express our gratitude enough!
- Lauren and Luke
I still don't have the words...
I still don't have the words to describe how incredible this venue was for our family and friends.
We were married on 18.05.19, checked in on Friday and left Monday. The entire experience from booking the venue 18 months prior to meeting the lovely Karyn and Michael on the Friday afternoon was seamless. They are flexible with your different wants and needs for the big day and even go out of their way to ensure it's the best way possible.
The day of the wedding Karyn organised for the ceremony arbor to be carried to the barn (reception) so it wouldn't get wasted and could add to the decor or the barn (brilliant)
Michael helped out with the set up and ensured everything ran smoothly on the night.
So accommodating and just lovely people to work with.
I would do it all again at this venue in a heartbeat, cannot fault one thing.
Thank you for making our day perfect.
- Chelsea and Scott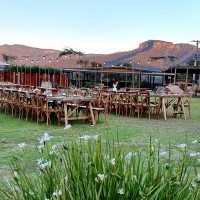 WOW!! Just thank you!
Karyn, Shaye & team!

WOW!! Just thank you!

What an incredible weekend! Not only was our wedding day the best day of our lives, but the opportunity to have spent the whole weekend with both our families is something we will both truly cherish forever!

We don't even know where to start….

Thank you for making the whole process of planning a wedding just such an easy one. From viewing the property, to all of our questions throughout the past couple years, to setting up……just everything, you ladies were incredible!

We just couldn't be more thankful for the support we received from you all.

Our whole family is still raving on about what a special weekend it was for each & every one of them! You have helped for a bond for our families that we are just so happy to see.

I wish we could put into words how incredibly grateful we are :)

Karyn, you have a wonderful team & a beautiful, caring family.

We are so blessed to have met you all.

Thank you, thank you, thank you!

I wish we could do it all again.

Lots of love always

- Donette and Jeff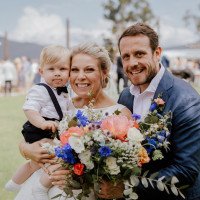 The Wedstival of 2018!
A HUGE Thank You to everyone at Adams Peak for helping us to create our EPIC Wedding Weekend! We had the most amazing time and cannot recommend this venue highly enough - it was perfect for the "Wedstival of 2018"!!
- Jo and Frazer