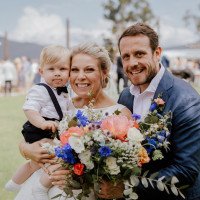 The Wedstival of 2018!
A HUGE Thank You to everyone at Adams Peak for helping us to create our EPIC Wedding Weekend! We had the most amazing time and cannot recommend this venue highly enough - it was perfect for the "Wedstival of 2018"!!
- Jo and Frazer
Sad to say goodbye...
Adams Peak! Where do we start! From the moment we saw the place on Instagram we fell in love. Then we saw it in person and we knew this is where we wanted, no... HAD to get married. BONUS the place has only gotten better since we viewed it a year ago as they have done so much work and I know they have so much more in the pipeline!

Adams Peak has a rustic Beauty that is so rare and it's views take your breath away! My friends and family took full advantage of the various photo opportunities around the venue and I got told constantly through out the night how beautiful the spot was.

We stayed for three nights and Karyn went above and beyond to make our stay comfortable. You can tell it's a family run business by how much love she pours into it and by how well she looks after you while you stay there.

She ALWAYS answered, emails, texts or phone calls quickly and had solutions for any problems that may of come up. Nothing was to much of an ask and she really made our day complete. It will be sad saying good bye to the venue as well as Karyn and her family as we fell in love with them both and we hope to pop back in if we are ever in the Hunter again! Thank you so much for giving us the wedding of our dreams!
- Bec and Matt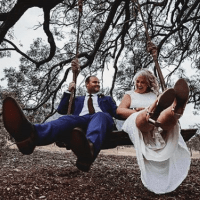 Michael... you were a legend!
We wanted to say the biggest thank you from the bottom of our hearts!

We had the best wedding weekend that we ever could have hoped or dreamed of. Your property is magnificent and it meant that we not only got to have a beautiful, picturesque ceremony, reception, photos and pre & post drinking venue... but also meant that we got to have all of our family and closest friends stay with us for the whole weekend.
It has given us memories that will last a lifetime. We can not wipe the smiles off our faces.

Michael... you were a legend! Thank you for looking after us for the entire weekend. You were always there with anything we needed, and even there doing things we didn't know we needed. THANK YOU!

Karyn... Adams Peak is just magical, you made everything SO easy in the lead up and everyone has not stopped raving about the place. I feel like there may be some Edwards/Moloney weddings at AP in the future.

Thank you again, we can't possibly express our gratitude enough!
- Lauren and Luke
I still don't have the words...
I still don't have the words to describe how incredible this venue was for our family and friends.
We were married on 18.05.19, checked in on Friday and left Monday. The entire experience from booking the venue 18 months prior to meeting the lovely Karyn and Michael on the Friday afternoon was seamless. They are flexible with your different wants and needs for the big day and even go out of their way to ensure it's the best way possible.
The day of the wedding Karyn organised for the ceremony arbor to be carried to the barn (reception) so it wouldn't get wasted and could add to the decor or the barn (brilliant)
Michael helped out with the set up and ensured everything ran smoothly on the night.
So accommodating and just lovely people to work with.
I would do it all again at this venue in a heartbeat, cannot fault one thing.
Thank you for making our day perfect.
- Chelsea and Scott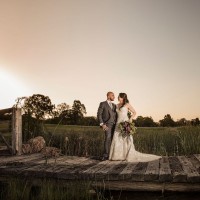 Our Dream Wedding
We fell in love with Adam's Peak from our first visit and we're so happy we had our wedding there. The whole property is so beautiful and continually being improved upon. There is a lot of flexibility in how you plan your wedding and where you have the ceremony and reception, and there is also a great list of recommended suppliers to work with. There was accommodation on the property that allowed us to have our entire bridal party and immediate family stay the whole weekend with us and the guesthouse was so comfortable and well equipped. We also loved how private the venue is and there is exclusive hire of the property for the duration of the booking. Karyn and Michael were both so friendly and helpful to deal with both during the planning process and on the weekend of the wedding. Everything was set up exactly according to our run sheet when we arrived and all we had to do was decorate. We had the best day and all of our guests were impressed by the stunning venue. Thanks Karyn and Michael for all of your help, we feel like we had our dream wedding!
- Laura and Benjamin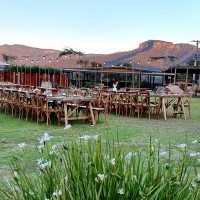 WOW!! Just thank you!
Karyn, Shaye & team!

WOW!! Just thank you!

What an incredible weekend! Not only was our wedding day the best day of our lives, but the opportunity to have spent the whole weekend with both our families is something we will both truly cherish forever!

We don't even know where to start….

Thank you for making the whole process of planning a wedding just such an easy one. From viewing the property, to all of our questions throughout the past couple years, to setting up……just everything, you ladies were incredible!

We just couldn't be more thankful for the support we received from you all.

Our whole family is still raving on about what a special weekend it was for each & every one of them! You have helped for a bond for our families that we are just so happy to see.

I wish we could put into words how incredibly grateful we are :)

Karyn, you have a wonderful team & a beautiful, caring family.

We are so blessed to have met you all.

Thank you, thank you, thank you!

I wish we could do it all again.

Lots of love always

- Donette and Jeff
Planning from the UK
Absolutely incredible venue. Sarah and I got married at Adams Peak last month and we couldn't have asked for a more special venue. Karyn and the team were so helpful in the build-up when we were planning the wedding from the UK, and on the day. The range of options for the ceremony and reception mean it is ideal whatever the weather. And it really is a beautiful part of the world with breathtaking views from the venue.
- Ray and Sarah