You're engaged - congratulations!!
Now to choose the perfect venue...
Adams Peak Country Estate is one of a kind. Set in a stunning location in Broke, in the Hunter Valley, NSW, we are renowned for ticking all the boxes when it comes to your perfect wedding day.
Ceremony, reception and accommodation all on one amazing property
Multiple ceremony and reception locations,
Onsite accommodation for up to 24 people,
Abundance of accommodation for ALL your guests within a 5 minute drive.
The Ceremony
Depending on the style and theme of your wedding, there are a number of beautiful locations on the property to hold your ceremony.
The Reception
We have two very different options for your reception - The Barn and The Hay Shed.
Make an Enquiry
If you have a general enquiry about our property, please get in touch.
Please note: enquiries related to booking Wedding dates must use our Wedding Enquiry form.
Reviews
Wedding postponed 4 times due to COVID!
WOW! What a venue! My partner and I started looking for wedding venue's in 2019 and Adams Peak was one of the first we looked at. From that moment on, I couldn't get this place out of my head and any place we looked at after, just couldn't live up to Adams Peak.

Our wedding was postponed 4 times over 2 years due to Covid, and every time Karyn was amazing to deal with. She was always lovely, always responded quickly and nothing was ever too much for her. At one point I was wondering how long it would take me to walk down the aisle so I could get the timing of the music right, and Karyn went out there and counted the number of steps from the start to the end, and the time it took her!

Over the time we had booked Adams Peak, they brought on a new event coordinator, Anne-Marie. At first I was a little worried, I had spent 18 months dealing with Karyn and felt like she knew everything I wanted and how I wanted it, I was unsure that someone new would be able to take on that much history. But I had nothing to be worried about! Anne-Marie was beyond incredible and it truely felt like one of my best friends was coordinating the day for me. She was truely amazing and nothing was too much trouble. Even running back to the rooms last minute to grab the rings in the pouring rain!

I also need to mention Michael, because he was amazing too! He let my 2 year old son sit on his ride on mower and my son has not stopped talking about it since! Michael gave us hay to feed the gorgeous cows they have on site, and gave us a lift back to the wedding when my feet were sore from walking in heels! He was also a huge help in setting up the day before, nothing was too much trouble for him. Even drilling hooks into the wall so I could hang a frame exactly where I wanted it haha

The venue itself is amazing, the rooms were all immaculate and had everything we needed! The grounds were perfect, and even the toilets got a lot of mentions from my girlfriends - a little box on the sink full of anything and everything one might need at a wedding - deodorant, bobby pins, safety pints, hair spray, needle & thread and all kinds of things!

I absolutely love Adams Peak & cannot recommend it enough!!!

Thanks for everything guys, you truly made our day unforgettable, much love xx
- Jody and David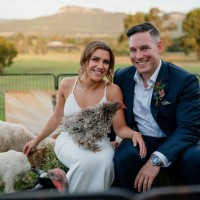 I really couldn't fault one part of it.
I can't believe it's already been a month since we got married at Adams Peak! We thought our wedding was perfect, it was everything we dreamed it would be and somehow better!

I wanted to say thank you so much for your support and help on our wedding weekend plus heaps of your effort that goes in before we've even arrived. Karyn you were easy going and always so composed and in control. We loved the online wedding planning tool that gave us all the information we needed. Working with you (and the online portal) gave us so much confidence and took a lot of stress out of the planning process. We loved the recommended vendor page which we utilized for many of our vendors. It was also super helpful and comforting that they knew the venue and the operations as well, another thing for us not to worry about.

A special mention to Kim who was very attentive and made sure everything went to plan on the day. I know we only see a fraction of what you guys are doing behind the scenes but it's not lost on us that things don't run that smoothly by chance. Also Kim took great care of our parents, my mum and dad said they felt like VIP guests all day as Kim introduced herself, knew their drink orders and made sure they were always taken care of. Thank you for doing that.

I really couldn't fault one part of it. You have put thought and care into every aspect and we will highly recommend the venue to friends and family.

Lisa and Trent x
-
Planning from the UK
Absolutely incredible venue. Sarah and I got married at Adams Peak last month and we couldn't have asked for a more special venue. Karyn and the team were so helpful in the build-up when we were planning the wedding from the UK, and on the day. The range of options for the ceremony and reception mean it is ideal whatever the weather. And it really is a beautiful part of the world with breathtaking views from the venue.
- Ray and Sarah