You're engaged - congratulations!!
Now to choose the perfect venue...
Adams Peak Country Estate is one of a kind. Set in a stunning location in Broke, in the Hunter Valley, we are renowned for ticking all the boxes when it comes to your perfect wedding day. Not only can you have the ceremony, reception and accommodation all on one amazing property, but you have unrivalled views that set the theme for your picture-perfect wedding.
With multiple ceremony and reception locations, you can write your own unique wedding day story.
In addition to onsite accommodation for up to 24 people, Broke offers an abundance of accommodation for your additional guests all within a 5-10 minute drive. With local transport companies to get them to and from the wedding, we make it easy for you and your guests to relax and enjoy the 'big day' without the stress of traveling, traffic or watching the clock!
Being a family owned and run business, we pride ourselves in offering a personalised service to ensure everything runs smoothly. We love what we do, and we're happy to give as much or as little advice and assistance as required. We provide tools and checklists to assist you with the planning process, including a personalised Our Wedding Portal.
The Ceremony
Depending on the style and theme of your wedding, there are a number of beautiful locations on the property to hold your ceremony.
The Reception
We have two very different options for your reception - The Barn and The Hay Shed.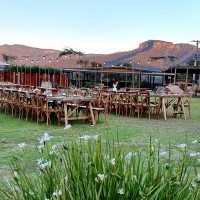 WOW!! Just thank you!
Karyn, Shaye & team!

WOW!! Just thank you!

What an incredible weekend! Not only was our wedding day the best day of our lives, but the opportunity to have spent the whole weekend with both our families is something we will both truly cherish forever!

We don't even know where to start….

Thank you for making the whole process of planning a wedding just such an easy one. From viewing the property, to all of our questions throughout the past couple years, to setting up……just everything, you ladies were incredible!

We just couldn't be more thankful for the support we received from you all.

Our whole family is still raving on about what a special weekend it was for each & every one of them! You have helped for a bond for our families that we are just so happy to see.

I wish we could put into words how incredibly grateful we are :)

Karyn, you have a wonderful team & a beautiful, caring family.

We are so blessed to have met you all.

Thank you, thank you, thank you!

I wish we could do it all again.

Lots of love always

- Donette and Jeff
I still don't have the words...
I still don't have the words to describe how incredible this venue was for our family and friends.
We were married on 18.05.19, checked in on Friday and left Monday. The entire experience from booking the venue 18 months prior to meeting the lovely Karyn and Michael on the Friday afternoon was seamless. They are flexible with your different wants and needs for the big day and even go out of their way to ensure it's the best way possible.
The day of the wedding Karyn organised for the ceremony arbor to be carried to the barn (reception) so it wouldn't get wasted and could add to the decor or the barn (brilliant)
Michael helped out with the set up and ensured everything ran smoothly on the night.
So accommodating and just lovely people to work with.
I would do it all again at this venue in a heartbeat, cannot fault one thing.
Thank you for making our day perfect.
- Chelsea and Scott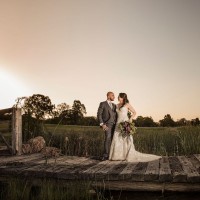 Our Dream Wedding
We fell in love with Adam's Peak from our first visit and we're so happy we had our wedding there. The whole property is so beautiful and continually being improved upon. There is a lot of flexibility in how you plan your wedding and where you have the ceremony and reception, and there is also a great list of recommended suppliers to work with. There was accommodation on the property that allowed us to have our entire bridal party and immediate family stay the whole weekend with us and the guesthouse was so comfortable and well equipped. We also loved how private the venue is and there is exclusive hire of the property for the duration of the booking. Karyn and Michael were both so friendly and helpful to deal with both during the planning process and on the weekend of the wedding. Everything was set up exactly according to our run sheet when we arrived and all we had to do was decorate. We had the best day and all of our guests were impressed by the stunning venue. Thanks Karyn and Michael for all of your help, we feel like we had our dream wedding!
- Laura and Benjamin