You're engaged - congratulations!!
Now to choose the perfect venue...
Adams Peak Country Estate is one of a kind. Set in a stunning location in Broke, in the Hunter Valley, NSW, we are renowned for ticking all the boxes when it comes to your perfect wedding day.
Ceremony, reception and accommodation all on one amazing property
Multiple ceremony and reception locations,
Onsite accommodation for up to 24 people,
Abundance of accommodation for ALL your guests within a 5 minute drive.


The Ceremony
Depending on the style and theme of your wedding, there are a number of beautiful locations on the property to hold your ceremony.
The Reception
We have two very different options for your reception - The Barn and The Hay Shed.
Make an Enquiry
If you have a general enquiry about our property, please get in touch.
Please note: enquiries related to booking Wedding dates must use our Wedding Enquiry form.
Reviews
Sad to say goodbye...
Adams Peak! Where do we start! From the moment we saw the place on Instagram we fell in love. Then we saw it in person and we knew this is where we wanted, no... HAD to get married. BONUS the place has only gotten better since we viewed it a year ago as they have done so much work and I know they have so much more in the pipeline!

Adams Peak has a rustic Beauty that is so rare and it's views take your breath away! My friends and family took full advantage of the various photo opportunities around the venue and I got told constantly through out the night how beautiful the spot was.

We stayed for three nights and Karyn went above and beyond to make our stay comfortable. You can tell it's a family run business by how much love she pours into it and by how well she looks after you while you stay there.

She ALWAYS answered, emails, texts or phone calls quickly and had solutions for any problems that may of come up. Nothing was to much of an ask and she really made our day complete. It will be sad saying good bye to the venue as well as Karyn and her family as we fell in love with them both and we hope to pop back in if we are ever in the Hunter again! Thank you so much for giving us the wedding of our dreams!
- Bec and Matt
I still don't have the words...
I still don't have the words to describe how incredible this venue was for our family and friends.
We were married on 18.05.19, checked in on Friday and left Monday. The entire experience from booking the venue 18 months prior to meeting the lovely Karyn and Michael on the Friday afternoon was seamless. They are flexible with your different wants and needs for the big day and even go out of their way to ensure it's the best way possible.
The day of the wedding Karyn organised for the ceremony arbor to be carried to the barn (reception) so it wouldn't get wasted and could add to the decor or the barn (brilliant)
Michael helped out with the set up and ensured everything ran smoothly on the night.
So accommodating and just lovely people to work with.
I would do it all again at this venue in a heartbeat, cannot fault one thing.
Thank you for making our day perfect.
- Chelsea and Scott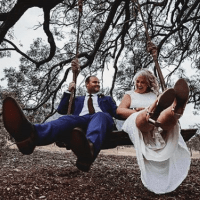 Michael... you were a legend!
We wanted to say the biggest thank you from the bottom of our hearts!

We had the best wedding weekend that we ever could have hoped or dreamed of. Your property is magnificent and it meant that we not only got to have a beautiful, picturesque ceremony, reception, photos and pre & post drinking venue... but also meant that we got to have all of our family and closest friends stay with us for the whole weekend.
It has given us memories that will last a lifetime. We can not wipe the smiles off our faces.

Michael... you were a legend! Thank you for looking after us for the entire weekend. You were always there with anything we needed, and even there doing things we didn't know we needed. THANK YOU!

Karyn... Adams Peak is just magical, you made everything SO easy in the lead up and everyone has not stopped raving about the place. I feel like there may be some Edwards/Moloney weddings at AP in the future.

Thank you again, we can't possibly express our gratitude enough!
- Lauren and Luke