You're engaged - Congratulations!! Now to choose the perfect venue...
Adams Peak Country Estate is one of a kind. Set in a stunning location in Broke, in the Hunter Valley, NSW, we are renowned for ticking all the boxes when it comes to your perfect wedding day.
Ceremony, Reception and Accommodation... one unforgettable location
Multiple ceremony and reception locations for up to 150 guests,
Onsite accommodation for up to 24 people,
Picturesque photo locations onsite including our beautiful Highland Cows.
An abundance of additional accommodation for ALL your guests within a 5 minute drive.
The Ceremony
Depending on the style and theme of your wedding, there are a number of beautiful locations on the property to hold your ceremony.
The Reception
We have two very different options for your reception - The Barn and The Hay Shed.
Reviews
An amazing venue, managed by incredible humans.
An amazing venue, managed by incredible humans. If we could give 10 stars in this review, then we'd want to give 11 because while the venue itself is outstanding, Anne-Marie, Karyn and the rest of the team behind the scenes are what make it truly EPIC. These people know. their. stuff. Yet they don't make you feel pressured into doing anything in any particular way; on the contrary, they make sure that the day is going to go the way YOU want it to go.
Over 14 months, from booking the venue to the actual wedding, nothing was ever a problem for the AP team. Anne-Marie (Event Manager) is so supportive and was happy to answer all our queries, arranged for us to go to the venue as often as we needed to, and helped bring our crazy ideas to life. On the day, she was totally calm, made sure we had everything we needed, and every time I lost my phone (which was a lot!), she magically appeared with it. Planning weddings is super stressful and it is important to have vendors that you can trust. There are so many beautiful wedding venues to choose from, but it's the people managing them that can make or break your experience. This is why we would recommend Adams Peak and the awesome AP team 1,000 times over - they ensured we had the best day of our lives!

- Sam and Shona
from the mother of the bride
The estate is set among stunning natural beauty. Even when the grounds are filled with the noise of wedding guests, you can still feel a tangible sense of peace. My daughter's wedding, on the 6th May, was perfect. Accommodation is lovely, and rooms feel private, even though everything is really close. Rooms have everything one needs. My bed was super comfy. Staging of venue was superb. Everyone that had their part in helping the day run smoothly, did their job exceptionally well. The chef deserves a score of '19' in the chef hat awards. (hope this emoji is drool - that's what I was after LOL). The best thing about the weekend, we have the best pics from the professional photographer, that we can look at forever.
- Juanita - Mother of the bride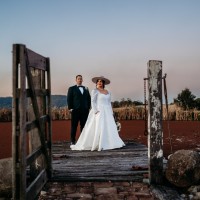 Would do everything exactly the same if we had to do it again.
Thank you so much to Adams Peak for hosting our wedding on June 17th - we wanted a fun cocktail style wedding with plenty of comfort food options and they delivered. Our guests had a great time and complimented the venue, service, food and fun vibe. We didn't want a traditional boring wedding and this was the perfect place for that!
Thank you to Karyn, Anne-Marie, Michael and the team for all your help.
Thank you to Ben from Monkey Place for exceptional service in the lead up to the wedding and for putting on a great fare.
Would do everything exactly the same if we had to do it again.

- Mikayla and Alex